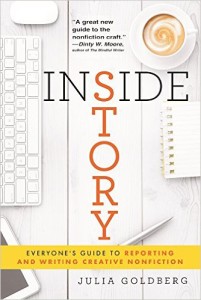 Leaf Storm Press to publish Inside Story: Everyone's Guide to Reporting and Writing Creative Nonfiction by Julia Goldberg
Santa Fe, NM– August 31, 2015. Leaf Storm Press today announced that it will publish Inside Story: Everyone's Guide to Reporting and Writing Creative Nonfiction, a book by Julia Goldberg, in 2016.
Inside Story tackles the myriad approaches to the burgeoning genre of creative nonfiction—from memoir to criticism to literary journalism—by deeply exploring each stage of the generation, reportage, writing and editing of stories. Drawing on and integrating examples and advice from diverse practitioners in the field, Inside Story extends beyond idea and inspiration with practical advice, examples and exercises geared toward everyone from writing students, citizen journalists, bloggers and working writers.
"The idea for the book grew out of my last four years of developing curriculum for teaching these topics as a full-time faculty member in the Creative Writing and Literature Department at Santa Fe University of Art and Design, and building upon my 15 plus years of working as a journalist and editor," said Julia Goldberg, "Creative nonfiction, which marries traditional reportage with literary techniques, is hardly a new phenomena (it used to be called literary journalism), but it is certainly having a tremendous renaissance. Numerous craft books, websites and competitions attest to the interest writers have in exploring the 'real' world without the confines of traditional nonfiction structures (such as the dreaded inverted pyramid). Several popular multi-edition Creative Nonfiction books emphasize the importance of gathering information for ballast and meaning in one's work. But not enough attention is paid to the fundamental aspects of reporting (interviewing, finding information, devising a structure, crafting traditional dialogue, finding resources, applying an ethical framework). This type of information is found in traditional journalism textbooks, but these textbooks are very expensive and somewhat geared at traditional journalism majors who might be pursuing any number of paths, including broadcast journalism. Inside Story is designed to fill that gap."
About the Author: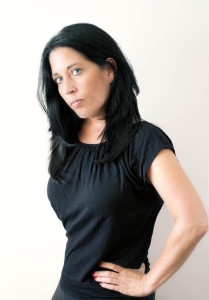 Julia Goldberg has been a professional journalist for more than 20 years, serving as editor of The Santa Fe Reporter from December 2000 through April 2011, during which time the paper won dozens of national awards for investigative reporting, writing, design and web innovation. Julia also previously held the editorial chair for the national Association of Alternative Newsweeklies board of directors, helping to design, coordinate and oversee national journalism workshops and web projects. Her own writing has appeared in numerous regional and national publications, including The Rumpus, Salon, The Huffington Post and Alternet, to name a few. She is a contributing writer and editor to Best Altweekly Writing 2009-2010 (Northwestern University Press). Julia has personally received multiple first place journalism awards for environmental, feature and investigative reporting, as well as multi-media journalism. Julia is a full-time faculty member in the Creative Writing Department at Santa Fe University of Art and Design, where she teaches a variety of nonfiction writing courses and is a faculty advisor for the student online magazine. She is a former radio talk show host, as well as the nonfiction editor for the acclaimed literary website The Nervous Breakdown.
Julia Goldberg photo credit: Jessica Preston Photography
Leaf Storm Press is an award-winning, independent book publisher based in Santa Fe, New Mexico. Leaf Storm is dedicated to publishing works with unique literary, artistic or cultural significance. Currently, Leaf Storm Press publishes fiction, non-fiction and children's books, with a planned schedule of 6–8 titles each year. Leaf Storm Press is a member of the Association of American Publishers (AAP), the Independent Book Publishers Association (IBPA) and an associate member of the American Booksellers Association (ABA).