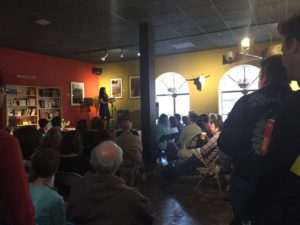 I have been known to run my mouth for a variety of reasons: civic projects, public lectures and literary series. Here is a small selection of projects and public appearances.
December 12, 2017: Host and moderator Q & A for authors James Reich and Quintan Ana Wiwsko, Collected Works Bookstore, Santa Fe, NM.
November, 2017: Public presentation on Inside Story: Everyone's Guide to Reporting and Writing Creative Nonfiction with public workshop. Bookworks, Albuquerque, NM
July, 2017: Speaker and panelist at 2017 Association of Alternative Newsweeklies annual convention, Washington, DC.:
"Multimedia Storytelling Across Platforms" (featured speaker); "The Role of 'Alts' in Media Criticism & News Literacy" (panelist)
November, 2016: Live radio hosting of national and state elections, KVSF, 101.5 FM
November, 2015: Presenter on interviewing skills at the Santa Fe Art Institute's 140 series
SFAI 140 – November 2015 – Julia Goldberg from Santa Fe Art Institute on Vimeo.
In January, 2014, I co-moderated a mayoral forum with SFR Editor Julie Ann Grimm, cosponsored by Progress Now NM.
In February, 2014, I moderated a mayoral election forum cosponsored by MIX Santa Fe and Hutton Broadcasting, "PolitMIX."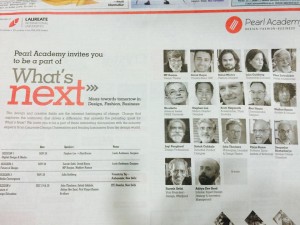 I was a guest speaker for Pearl Academy's "What's Next" series in Delhi, India in November, 2014, and delivered a talk on convergent media for a variety of bloggers, journalists and educators.
Project leader for the AHA Festival of Progressive Arts on Sept. 14, 2014, The Interview Project, along with Todd Lovato, Zane Fischer and Andrew Primm, offering a booth at which anyone interested in having the interview experience was invited to sit down and talk. All the interviews were recorded and are available on SantaFe.com.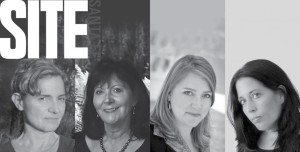 In November, 2014 moderated an interesting panel sponsored by SITE Santa Fe with the NM Drug Policy Alliance and NM Women's Justice Project.
This is an informational video Andrew Primm and I made for Mix Santa Fe, an organization I worked with previously on media and data capture.
The trailer Andrew Primm, Eliot Fisher and I entered into Mix Santa Fe's video competition. As a result of winning, we were able to make a half-hour film, which aired at the Screen in April, 2011. The film is available on DVD. You can learn more about My So-Called Apocalypse on the website for the film.
A first Zombie movie, made in 2008, as part of a Zombie cover package for The Santa Fe Reporter, to accompany the story written by Dave Maass. The package ultimately won a 1st place award in format-busting in the annual national journalism competition by the Association of Alternative Newsweeklies.
Part 1 of a three-part video featuring an interview I conducted with former US Attorney David Iglesias in 2008 for the First Amendment Luncheon for the annual national Association of Alternative Newsweeklies annual convention, held that year in Portland, Oregon. The remaining two parts can be viewed on my youtube channel.
A short documentary Andrew Primm and I made on the Santa Fe Reporter's annual Best of Santa Fe competition.
A documentary I made with Andrew Primm on the 2004 Hip Hop Voter Project, a voter registration and education initiative I spearheaded with the Reporter and Chicanobuilt.
Appearance in April 2010 on KNME's "The Line," discussing environmental issues.
Discussing Net Neutrality on KNME's "New Mexico in Focus"