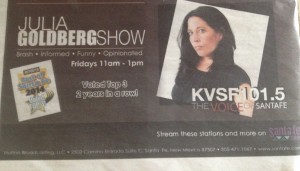 For several years, I hosted a radio talk show on  KVSF, 101.5 FM, The Voice of Santa Fe.
Guests included numerous elected officials from city hall to the state Legislature, local leaders from the nonprofit world, artists, filmmakers, musicians, activists and more. The show has been voted in the top 3 Best radio shows in 2013 and 2014 by readers of the Santa Fe Reporter in its annual Best of Santa Fe competition. I still sit in at KVSF for special events and guest hosting as needed.
Here are a few sample shows and outtakes:
Jan. 22, 2016, Hunky Dory: 
Santa Fe Animal Shelter and Humane Society's Public Information Director Ben Swan (http://sfhumanesociety.org) brings furry friends to the studio, and early news of the shelter's Valentine's specials. Erin Azouz and Mehedi van Hattum discuss their 10,000 mile cycling trip from Mexico to Argentina (www.letsgocariño.com); Author and businesswoman Destiny Allison talks about her new book, The Romance Diet: Body Image and the Wars We Wage On Ourselves (www.destinyallisonbooks.com); and Friday cohost Andrew Primm pits the legislative session against the therapy session.
Jan. 8, 2016: Happy New Year
For our first show of 2016, we visit with Ben Swan and Murad Kirdar from the Santa Fe Animal Shelter and Humane Society; Sandra Wechsler fromMyChange discusses a new app to change the world; Santa Fe Reporter Julie Ann Grimm has the scoop on SFR's annual photo contest and the news of the week; Friday guest Andrew Primm battles New Year's Resolutions Vs. City Elections, along with predictions for the coming year.
Jan. 15, 2016: Carry the News
On today's show, Santa Fe Mayor Javier Gonzales talks about public banking, the new city film commission, airport expansion and other civic topics. Julia Bergen, executive director for Communities in Schools discusses the needs CISNM fills in the community; author Elise Rosenhaupt shares the story behind her memoir Climbing Back: A Family's Journey Through Brain Injury. And Santa Fe Public Schools Superintendent Joel Boyd explains the upcoming Feb. 2 Education Technology Note vote.
Plus: the sounds of David Bowie throughout the show in honor of the greatest musician of this century, the last one and probably all the ones to come.
Dec. 4, 2015: Arts & Creativity:
Director Charles Dye discusses Two Secrets, which plays as part of this weekend's Santa Fe Film Festival's Stories From Our Lives: LGBTQ+ Shorts Program, 1:30 p.m., Dec. 6 at CCA. At noon, Daniel Werwath, chief operating officer of New Mexico Inter-Faith Housing, brings us up to date with the mid-town Arts and Creativity Center. Ending the show, Todd Lovato from Todd and the Fox previews the Dec. 5 Three Amigos Music Fiesta at Skylight.
Oct. 16, 2015: Films & Books
Author Miriam Sagan, director of Santa Fe Community College's Creative Writing Program, discusses her new novel, Black Rainbow, and her Oct. 16 event at Collected Works Bookstore. Santa Fe Animal Shelter and Humane Society's Public Relations Director Ben Swan and Adoptions Counselor Murad Kirdar stop by with the latest news from the shelter. Journalist Peter St. Cyr discusses his recent First Amendment Dixon Award from New Mexico Foundation for Open Government. And Zozobra chief Ray Sandovalgives us a hint of what's next for Old Man Gloom. And Santa Fe Independent Film Festival Executive Director Jacques Paisner checks in with us in the midst of this weekend's jam-packed film festival.
Here are a few more interviews from the show:
Interview with Santa Fe Mayor Javier Gonzales
Interview with Author Nathan Deuel
Interview with author T Cooper:
Interview with OMG GMO film director Jeremy Siefert
Some Press Coverage:
"Three Questions" (Santa Fe Reporter)
Mayor David Coss and City Councilor Patti Bushee announce election plans on The Julia Goldberg Morning Show (NM Telegram)
Mayor Coss breaks news that he won't run again on The Julia Goldberg Morning Show (Santa Fe New Mexican)
The Julia Goldberg Morning Show leads the new lineup for The Voice of Santa Fe (Albuquerque Journal)