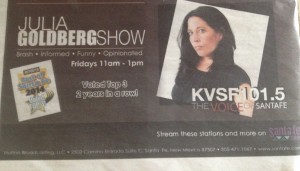 For several years, I hosted a radio talk show on  KVSF, 101.5 FM, The Voice of Santa Fe.
Guests included numerous elected officials from city hall to US senators, local leaders from the nonprofit world, authors, artists, filmmakers, musicians, activists and more. The show was voted in the top 3 Best radio shows in 2013 and 2014 by readers of the Santa Fe Reporter in its annual Best of Santa Fe competition. I still sit in at KVSF for special events and guest hosting.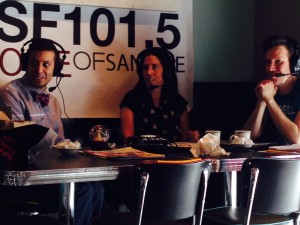 Here are a few of many, many interviews from the show, along with a few examples of entire shows. You can listen to way more on SantaFe.com.
Interview with Santa Fe Mayor Javier Gonzales
Interview with US Sen. Martin Heinrich
Interview with US Sen. Tom Udall
Interview with NM State Sen. Peter Wirth, D-Santa Fe
Interview with poet Thomas Sleigh
Interview with LA Times book critic David Ulin
Interview with Author Nathan Deuel
Interview with author David Stuart MacLean
Interview with author T Cooper
Litquest Gala organizers and others
Author Kathleen Lee, Zane Fischer and others
Author Abe Streep, "The Legends of Last Place"
Site Santa Fe, Arcos Dance and more
Press Coverage:
"Three Questions" (Santa Fe Reporter)
Mayor David Coss and City Councilor Patti Bushee announce election plans on The Julia Goldberg Morning Show (NM Telegram)
Mayor Coss breaks news that he won't run again on The Julia Goldberg Morning Show (Santa Fe New Mexican)
The Julia Goldberg Morning Show leads the new lineup for The Voice of Santa Fe (Albuquerque Journal)