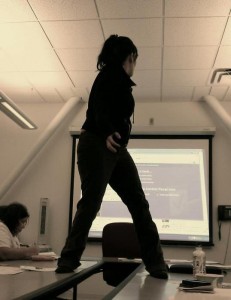 I am a full-time faculty member in the Creative Writing Department at Santa Fe University of Art and Design, where I teach courses on non-fiction writing, journalism and literature. Through the school, in 2013 and 2014, I also traveled and taught journalism and multi-media publication workshops on campuses in Mexico, Costa Rica and India. I was extremely humbled to be recognized as an honored educator by SITE Santa Fe in 2013.
I also serve as one of the faculty advisors for the online student magazine, Jackalope Magazine, a course I team teach with Anthony O'Brien in SFUAD's Photography Department.
I have designed and and now teach a variety of creative nonfiction, literature, journalism and media courses at the school. Feel free to peruse my course websites below:
Techniques of Creative Non-Fiction
Journalism Collaborations and Real Stories (original feeder courses to Jackalope Magazine).
Dystopia Literature and Gender 
Prior to working at SFUAD, I also taught creative writing courses at Santa Fe Community College and The Institute of American Indian Arts.